Georges is not very curious. He works for a public transport company and he plays the viola. He has never left his city. On his way home in the evening, he constantly plays the same piece of music. Sometimes he plays it with her friend who is also a pianist, Noëlla. One day, in the subway, he met a little girl who inspired him to travel the world and to discover other cultures. This is the beginning of a journey lasting several months to discover instruments, melodies and mesmerizing landscapes.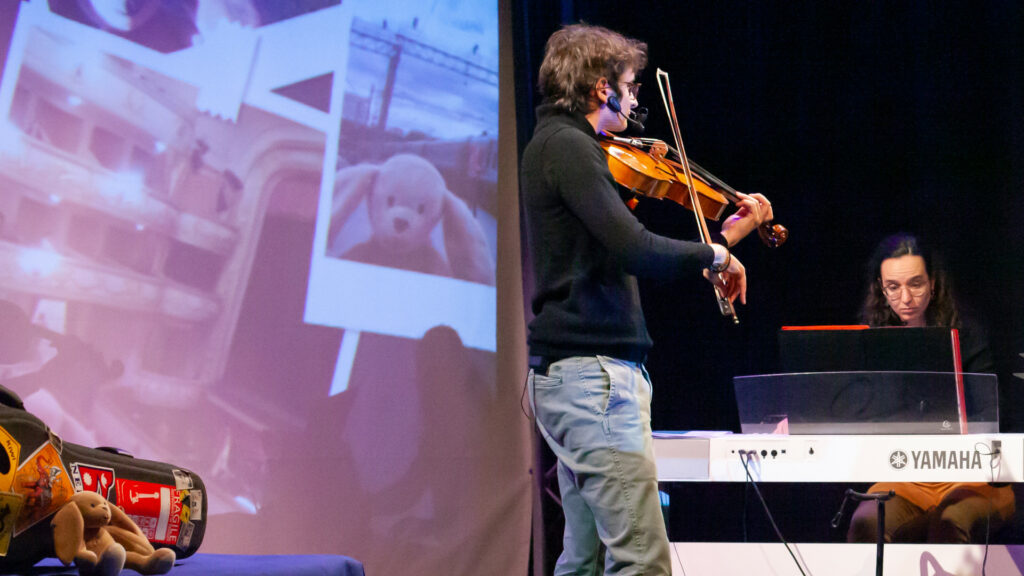 A dozen musical duets and short theater scenes
Le voyage de Georges is a musical show that introduces the spectators to several cultures through their music, their instruments and short theater scenes. The duo made up of Noëlla (piano & cajón) and Christophe (viola, erhu, ukulele & bongo) also deals with geography and the protection of nature, of which Georges – the little stuffed rabbit that followed Christophe on his world tour – understood the utmost importance when he stopped in the Mongolian desert and in Australia.
Before the show begins, teachers can encourage their students to discuss Le voyage de Georges in a pedagogic way. A few ideas are mentioned in the presentation file (in French) to be downloaded at the end of this page. The topics include geography, biology, languages and music.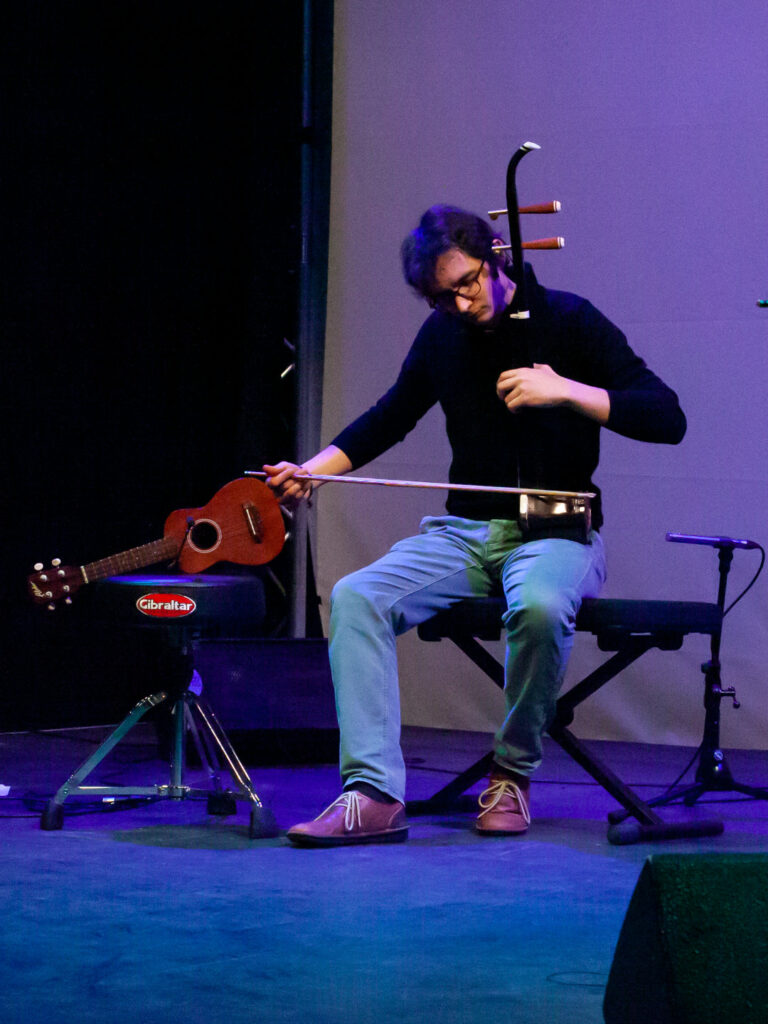 Please find down below a few extracts from the show.
Public recommended and duration of the show
Public:family · year 2 to year 8 · Age range: 6 to 12 years old.
Number of seats:150 to 350 at the same time
Duration:45 minutes.
Distribution
Noëlla Bedoucha-Laureana piano, cajón, story teller.
Christophe Touchard viola, ukulele, erhu (Chinese violin), bongos, story teller.
Text and adaptation Noëlla Bedoucha-Laureana, Johanne Débat et Christophe Touchard.
Staging Johanne Débat.
Musical arrangement Noëlla Bedoucha-Laureana et Christophe Touchard.
The origins
When I traveled the world with my viola and Georges, a little stuffed rabbit, I had absolutely no idea that I would ever want to produce a show. It is only when I came back to France that the idea started to grow in my mind. I was animated by a deep desire to share my experience in order to encourage people to open up to other cultures and to act, in particular to protect the planet. By chance, I met the classical pianist Noëlla Bedoucha-Laureana during this period. From this encounter came naturally the project of a show for young spectators which we have co-written in 2020 with the stage director Johanne Débat of the Cie Mode d'Emploi.

Christophe.
Learn more
Note: this show is only available in French.
Please enter your e-mail address to receive the file download link.
You are interested in the show for your school or your cultural center?